May 2021 Technical Meeting
May 18 @ 7:00 pm

-

8:00 pm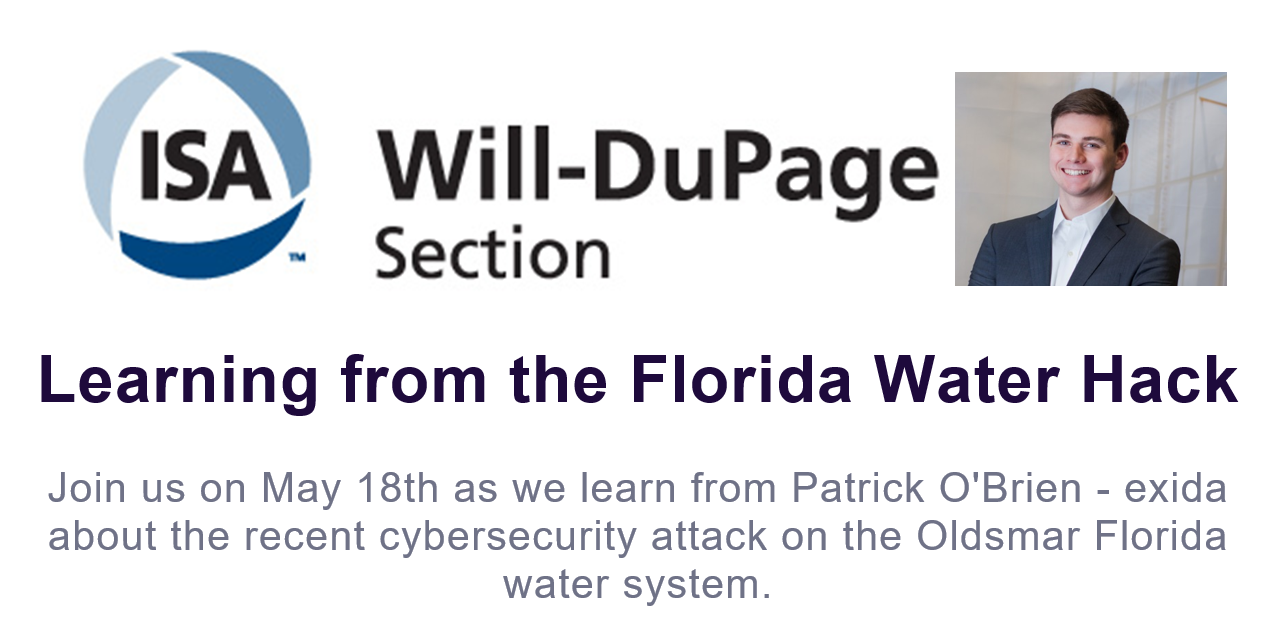 In early February of this year a water treatment facility was compromised in Florida. The attackers successfully increased the concentration of sodium hydroxide (also known as lye) by a factor of 100 risking potential illness for the public as well as significant erosion and pipe damage. Fortunately, operators of the Oldsmar water treatment facility saw the attackers increase the concentration and were able to return the concentration to normal levels before there was any risk for harm to the public. This near-miss highlights several important trends for industrial cybersecurity: Industrial cybersecurity incidents can have major health and safety implications, Critical infrastructure makes an attractive target to a variety of hackers, Critical infrastructure is highly susceptible to cybersecurity attack. In this webinar we will review what is known so far about the attack on the Florida water system and identify practical steps that can be taken to improve the cybersecurity of critical infrastructure systems.
Patrick O'Brien has five years of experience as a Safety and Cybersecurity Engineer at exida LLC. He leads a variety of functional safety and cybersecurity consulting services and training courses for end user industrial facilities. He specializes in gap analysis, risk assessment techniques, and subsequent safety/cybersecurity lifecycle tasks. He has significant experience as a project lead for multiple PHAs/HAZOPs, LOPAs, SRS, SIL verifications, functional safety management, cybersecurity risk assessments, and cybersecurity management across many industries including oil and gas, specialty chemical, machinery, and robotics. He is a coauthor of Implementing IEC 62443: A Pragmatic Approach to Cybersecurity one of the first book published on industrial cybersecurity. Additionally, he has developed training courses, parts of the Certified Automation Cybersecurity Expert (CACE) exam, a suite of functional safety and cybersecurity management templates, and user tutorials for the exSILentia® software platform, including significant work with the exSILentia Cyber™ tools. Patrick holds a BS in Chemical Engineering & German Language and Culture from the Pennsylvania State University. Patrick represents exida on the International Society of Automation Global Cybersecurity Alliance (ISAGCA).
Virtual Event!
We will be hosting this meeting Virtually!  Details to join the meeting will be distributed to registered attendees the day before the meeting.  You must register to get a link to the event.  Note the presentation will start at 7:00 pm.