February 2021 Technical Meeting
February 16 @ 7:00 pm

-

8:00 pm

Free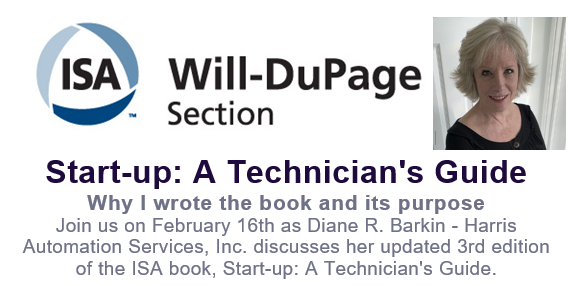 Start-up of new and existing facilities requires all involved parties to be coordinated and aware of their roles. Diane R. Barkin has completed the 3rd edition of Start-up: A Technician's Guide which is part of a series of books ISA offers control systems technicians (CST) to prepare for CST certification at levels 1, 2 or 3. Diane was able to write this book after over 30 years of experience in plant operation, process and project engineering, plant automation (system design and development of control strategies) and project management. She is proficient with control systems supplied by Honeywell (TDC and Experion), Schneider Electric (Foxboro I/A), and Emerson (DeltaV).
Her book prepares all personnel for the high-pressure demands and fast-emerging challenges by familiarizing them with the entire process from initial planning meetings through final testing and documentation, as well as the interactions between disciplines involved, safety considerations, and regulatory requirements. Besides being important for CCST certification, this book can be used by those seeking to understand the ins and outs of plant start-up operations and management. At our meeting today we will discuss real world start-up situations and the importance of safety, procedures and coordination to ensure a safe and efficient start-up.
Diane R. Barkin, serves as President and Senior Automation Specialist at Harris Automation Services, Inc., a Houston-based company that offers a full line of control system services including: automation project engineering and management; design, specification, order, programming, and training; and assistance with construction and start-up. HAS, Inc, is entering its 23rd year of business. Diane served as President and Activities Coordinator of the largest Foxboro users group, the Gulf Coast Foxboro I/A Users Group, for 10 years and has a B.S. in Chemical Engineering from the University of Pittsburgh.
ISA Technical Library – CCST Resource Library – Check out available resources HERE!
Virtual Event!
We will be hosting this meeting Virtually!  Details to join the meeting will be distributed to registered attendees the day before the meeting.  You must register to get a link to the event.  Note the presentation will start at 7:00 pm.